Why Choose Fabric Structures at Quad Cities?
Your business can get fast, cost-efficient, and green construction with our custom portable fabric structures at Quad Cities. Our fabric-covered shelters offer multi-use capability for agricultural, educational, governmental, construction, industrial, and other commercial properties. Here are some of the best benefits provided by Greenfield Contractors fabric structures:
Portability – Our structures allow for quick assembly, tear down, and relocation. They work better than conventional buildings when you need to move shelters around a job site, farm, or recreational area. These easily transported structures provide the perfect backdrop for remote sales presentations, trade shows, traveling seasonal entertainment, and mining or construction operations.
Flexibility – As your needs change, fabric structures give you the capability to adapt to those changes. If you need to expand operations, fabric buildings allow you to do so without the demolition and rebuild costs of conventional structures. If you need to restructure interior space, you can easily reconfigure your layout.
Improved Operational Efficiency – The translucent fabric ceilings in our structures allow plenty of natural light and protection from UV radiation. It eliminates the need for daytime lighting and moderates temperatures to provide comfortable conditions.
What Kinds of Businesses Benefit from Fabric Structures?
Almost any industry can take advantage of the benefits offered by fabric structures at Quad Cities. Here are examples of some of the businesses that frequently contact us for fabric buildings:
Construction Industry – Construction crews can secure fabric structures to almost any sort of foundation, including gravel, asphalt, concrete, or dirt. They allow your construction company to move fabric-covered shelters around your site as needed. In addition, they are easy to pack up and transport to the next job site.
Sports or Special Events – You can configure the layout of our fabric structures to suit the needs of any kind of athletic, civic, or entertainment event. Clients often use our fabric buildings for ticket booths, golf events, concession stands, covered sporting venues for games, event shelters, and school tennis courts or auditoriums.
Agricultural Industry – Farms can use our fabric structures for temporary or permanent storage solutions for machinery, implements, dry fertilizer, or grain. They also work for temporary or permanent shelters for care and feeding of livestock.
Mining Industry – With fabric structures at Quad Cities, your company will not need a concrete foundation. Consequently, you can move these flexible shelters anywhere you need them. Then, disassemble them and relocate them to the next area where you need storage or shelter for your employees.
Aviation Industry – You can keep electrical components and paint on your aircraft in better shape for longer periods with our fabric structures. In addition, our fabric shelters stay cooler during the same and warmer during the winter than brick-and-mortar buildings. Therefore, your maintenance crew, flight crew, or visitors will stay more comfortable. Also, you can relocate them to different areas of your base of operations if needed.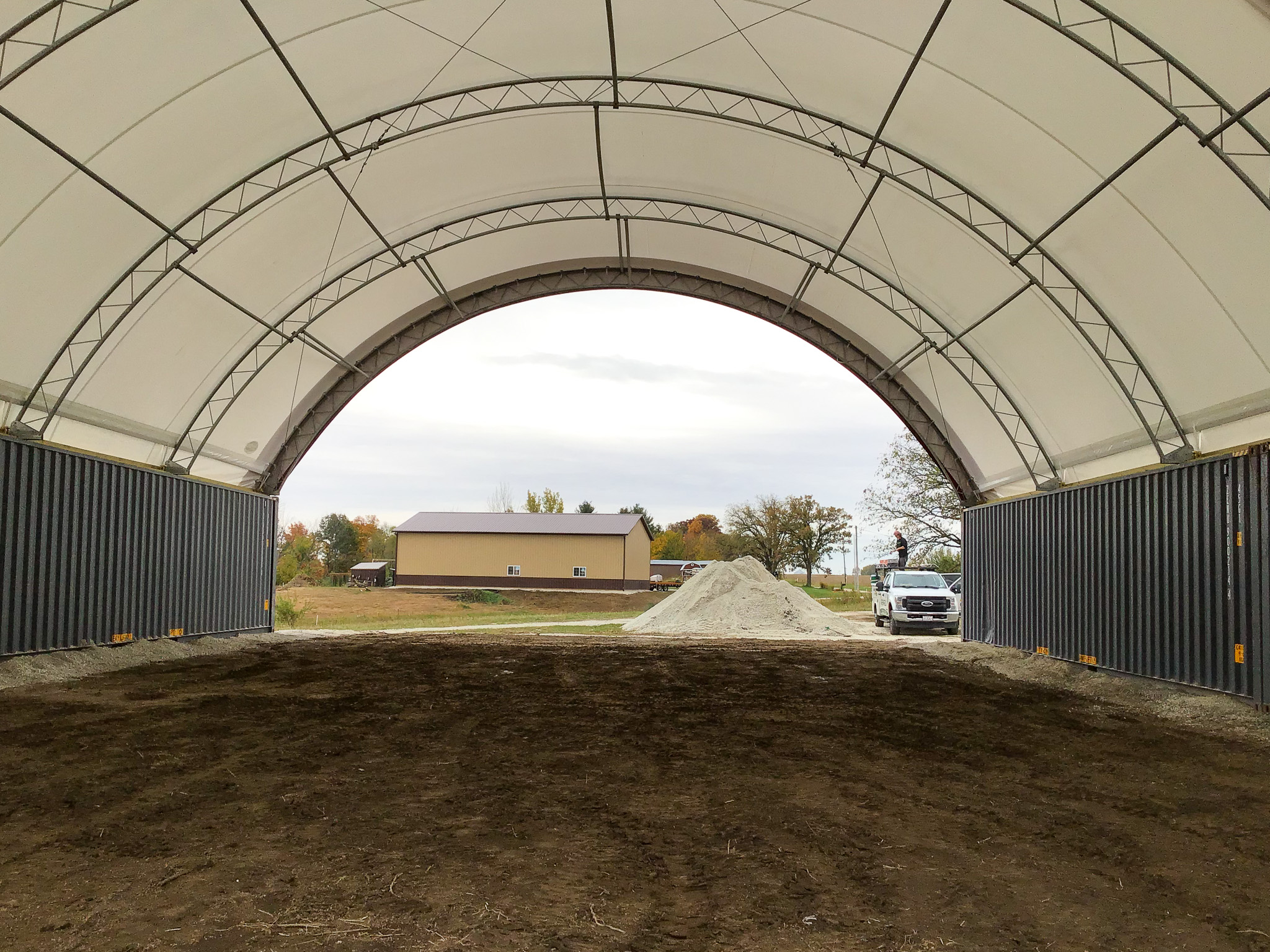 Get Free Quotes for Fabric Structures at Quad Cities
Greenfield Contractors can tailor buildings that support your business around your needs with our fabric structures at Quad Cities. In addition, these structures get erected without producing much scrap or wasted building materials. Consequently, you will not need to spend money on building materials that get thrown away. Call now at 833-385-1859 or email us with our online contact form to request a free estimate on a custom portable fabric building.