Contractors for Custom Portable Fabric Structures in Rock Island IL
Greenfield Contractors can provide your business with buildings that adapt to your needs with custom portable fabric structures in Rock Island IL. Our fabric covered buildings work for many different industries including the following:
Construction Companies – You can secure our fabric structures to almost any kind of foundation, including dirt, asphalt, concrete, or gravel. They can offer you flexible storage for your precious equipment no matter where your jobsite is located.
Sports or Special Events – Our fabric structures allow you to configure the layout to fit any kind of sporting event, music concert, theater festivals, or seasonal fairs. Our past clients have used our structures for concession stands, golf events, covered playing fields for games, event shelters, and even school auditoriums or gymnasiums.
Agribusiness – Your farm can benefit with temporary or permanent storage solutions for machinery, implements, dry fertilizer, grain, and more with our fabric structures in Rock Island IL.
Mining Operations – Our fabric structures do not require a concrete foundation. Therefore, you can move them around the worksite, easily disassemble them, and relocate them as needed.
Construction Services for Fabric Structures
Our company can handle all the planning, construction, and post-construction services needed for fabric structures in Rock Island IL. We can ensure your structure gets built to your specifications in timely fashion. We can provide the following services:
Pre-Construction Planning – We consult with you to understand your goals, budget, and timeline for the project. Then, we customize a plan suited to the individualized needs of your business.
Due Diligence – We take all the measurements and account for the wind speeds and snow loads of your location. Then, we predict and work to prevent problems before they occur.
Construction – We use experienced builders who understand the care and precision it takes to erect your new fabric structure successfully.
Post-Construction – We handle all the necessary cleanup as well as provide systems training. After undergoing final inspections, we conduct a walkthrough to make sure you are satisfied. In addition, we can help with warranty paperwork.
Maintenance and Repairs – We help clients keep their fabric buildings in good condition for the long haul with preventative maintenance and repair services when necessary.
Why Choose Fabric Buildings?
Your company can spend less, get quicker use of structures, and get greater flexibility with fabric structures in Rock Island IL. Here are just a few of the many great benefits you receive:
Faster Construction Projects – Typically, buildings get installed in a week or two upon material arrival at your property. With conventional construction projects, you will spend weeks if not months longer without being able to use the new structure.
Cheaper Operating Costs – The translucent fabric dome covering your building eliminates the need for daytime lighting, greatly reducing your energy bills.
Less Waste – Unlike with traditional wood or metal frame structures, fabric buildings get erected without producing large amounts of scrap or building material waste. Consequently, you keep money in your pocket instead of spending on materials you end up throwing away.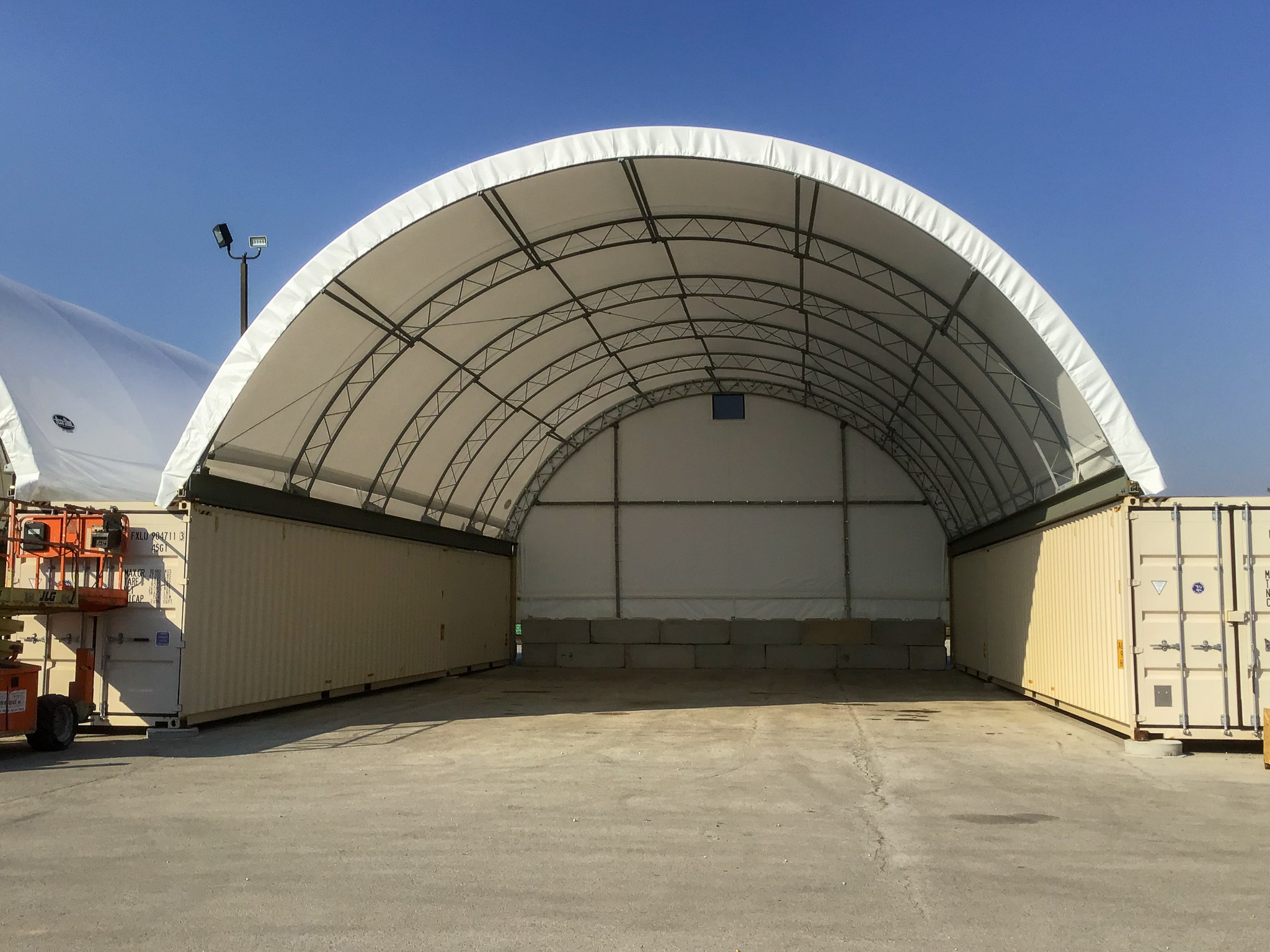 Get Free Quotes on Fabric Structures in Rock Island IL
Greenfield Contractors provides custom portable fabric structures in Rock Island IL. Our product lines come with packages available for standard or customizable building sizes. Also, our structures come in a variety of sizes, from as little as 16 feet by 20 feet to ones as big as 170 feet by 240 feet. Ask for a free estimate by giving us a call at 833-385-1859 or emailing us with our convenient online contact form.