Who Can Use a Fabric Structure?
Greenfield Contractors has worked to provide affordable, high-quality fabric structures for hundreds of businesses and dozens of industries throughout the Midwest. Numerous manufacturing, industrial, and agricultural companies and facilities can benefit from an investment in fabric structures. Whether for daily operations or extended storage, countless business owners have come to Greenfield for new and updated fabric buildings. Examples of the industries we serve include:
Agriculture
Fabric buildings are some of the most useful in various agriculture applications. Whether keeping cattle or storing grain, fabric structures protect your products, produce, and livestock from the elements. Fabric buildings also allow for plenty of natural light, keeping costs low and your livestock happy and healthy. Or, if not using your fabric structure for livestock or crop storage, our buildings are great for keeping equipment, tools, vehicles, fertilizer, feed and more.
Industrial
Your manufacturing facility, contracting work, or other industrial business can significantly benefit from investing in fabric structures. Greenfield's buildings offer plenty of space for industrial operations of all kinds. Our structures have been used for cold storage, warehousing, bulk storage, equipment storage, and numerous industrial applications.
Mining
As an industry with a majority of outdoor operations, the mining industry can greatly use Greenfield's fabric structures. With our fabric buildings, you have the same durability and protection as a standard industrial structure but the convenience of a portable building. As mining operations are often "pick-up and go," job sites require structures that operate similarly.
Transportation
The various operations required of the transportation industry mean having reliable but easy-to-construct and maintain structures. As such, fabric buildings fit the bill! Whether your fabric structure is used for storage and logistics at a shipping port or as a warehouse/terminal for train cars and equipment, you can be confident in your facility's capacity.
Municipal
For your city's municipal services to operate as they should, adequate storage of vehicles, equipment and materials is necessary. Thankfully, Greenfield has you covered. Since municipalities work on the taxpayer's dime, cost savings are essential! As such, fabric structures are some of the most affordable to set up and maintain. Our structures have been used for recycling plants, water management facilities, road-maintenance vehicle storage, and more.
Sports & Recreation
Many educational facilities or athletic centers count on the flexibility of fabric structures for providing cover to outdoor sports and events. Our structures can cover anything from a tennis court to a football field. Placing outdoor facilities for sports and recreation under a fabric building allows for usage all year round, no matter the weather.
Storage
No matter your industry, fabric structures can enhance your storage capabilities. Fabric buildings are quick to build, with options for all sizes. Whether storing commercial products, industrial equipment, raw materials, large vehicles, etc., you can be confident your property is kept safe, dry, and protected. Although primarily used for commercial and industrial purposes, fabric structures can be placed on private properties for additional storage.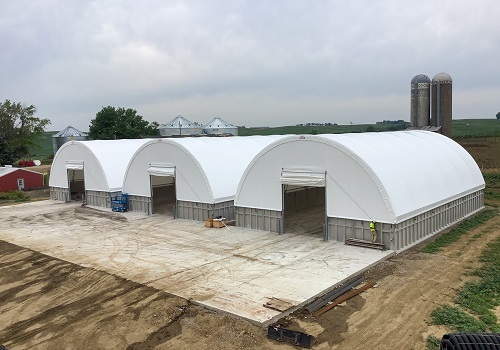 Call Today
Is a fabric structure the best fit for your business or industry? Find out by talking with the contracting experts at Greenfield Contracting! To learn more about how we can help install, repair or maintain your fabric structures, contact Greenfield today at 833-385-1859. We serve clients throughout the Midwest, with office locations in Illinois, Iowa and Kansas.