Discover the Versatility of Fabric-Covered Buildings in Peoria IL
Is your facility looking to expand but needs to do so quickly and affordably? Are you unsure how much new storage you need or where your new structures should go? If these concerns sound familiar, Greenfield Contractors has the solution: fabric-covered buildings in Peoria IL. Our incredible fabric structures have served the needs of agricultural, industrial, shipping facilities, and more! For expert design and construction of a fabric building in your area, count on Greenfield's team.
Fabric is the Future!
While post-frame structures and traditional construction can provide the space you need, these building methods are significantly more expensive and time-consuming. And when your company needs expanded space immediately, Greenfield's portable structures are your best option. With our fabric buildings, you can expect:
Improved Strength & Resistance – The concern with fabric and other building materials is their ability to withstand the Midwest's worst temperatures and weather conditions. Thankfully, strong winds, severe storms, heavy snows and the sun's UV rays are no match for our fabric structures, which are covered with high-density polyethylene tapes and UV inhibitors.
Longevity – Because fabric buildings are portable, they must only be temporary, right? Not true! Our fabric structures can last for years to come. The hot dip galvanized trusses our structures use for support are protected against corrosion, thus increasing the longevity of fabric buildings.
Versatility – Need to have the interior space for your fabric structure increased? Not a problem! Wish your building was located somewhere else? That's easy to resolve! With help from Greenfield Contractors, your fabric-covered buildings in Peoria IL can be easily moved, updated and redesigned based on your facility's needs.
Speed – Unlike most traditional construction, which can take several months to complete, a fabric structure can be erected within a matter of days! When your facility's storage and space needs are urgent, a fabric structure is the only building you can construct quickly.
Affordability – Best of all, fabric structures are some of the most affordable building and contracting projects you can complete. With reduced labor needs and fewer material requirements, costs for fabric buildings are kept relatively low.
Local Contractors Are Best
Every other fabric building manufacturer and construction company will boast the impressive ability of their structures to be built anywhere! While this is primarily true, outside contractors don't have the same experience constructing fabric structures in the Midwest as Greenfield Contractors. Our understanding of local construction regulations and regional climates ensures we can construct a structure scaled to the precise structure needs of your area. Furthermore, we offer 20-year manufacturer's warranties for all our new structures if problems arise.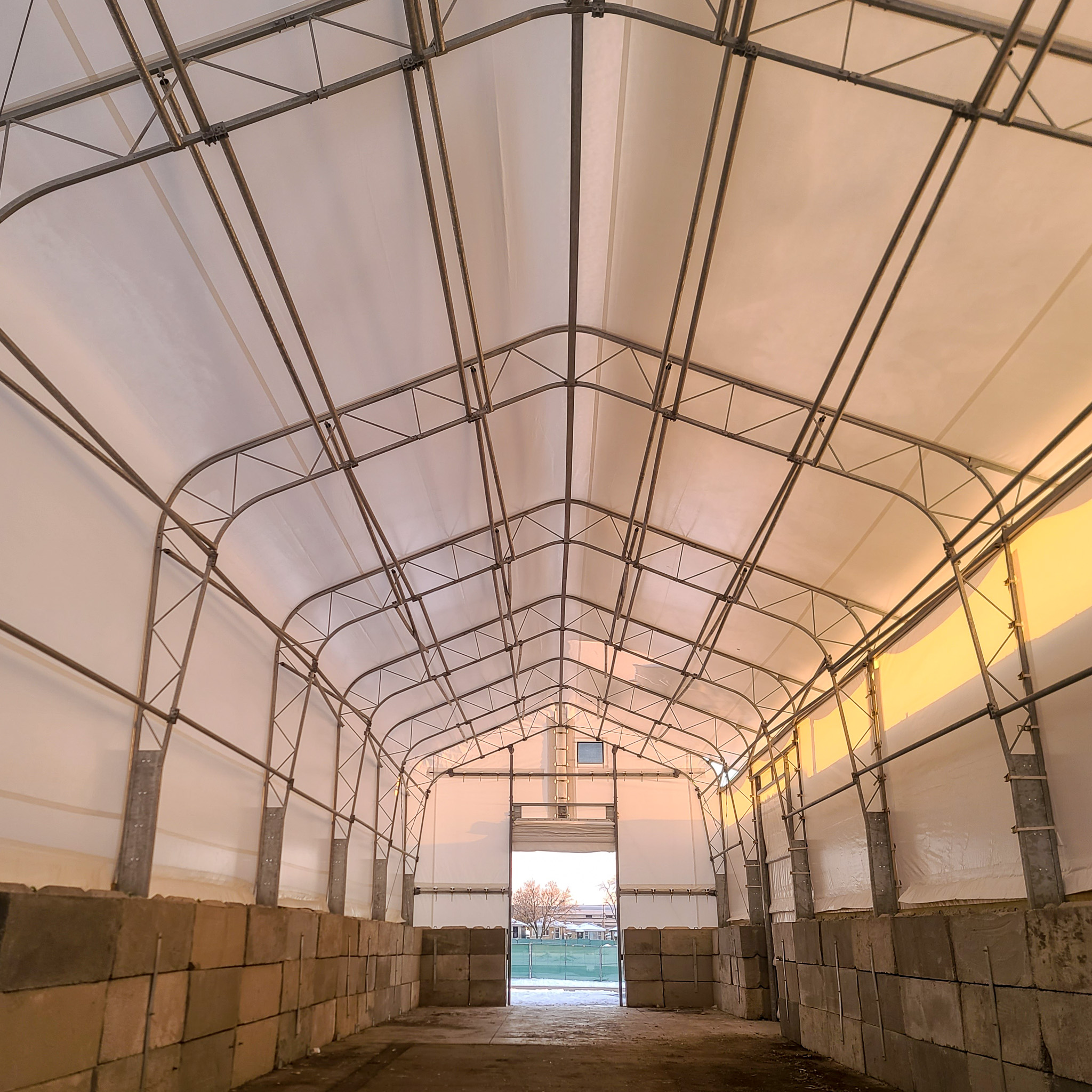 Call Today
The future is now with fabric-covered buildings in Peoria IL! To invest in our portable, durable, and long-lasting structures, contact Greenfield Contracting today at 833-747-7285. We serve clients throughout the Midwest, with offices in Illinois, Iowa and Kansas.