Save Time and Money with Fabric Buildings for Bloomington IL
Fabric buildings have grown in popularity across the industrial, commercial and manufacturing industries. Expanding space for storage or business operations without wasting much time or money is invaluable to most Midwestern businesses. As such, when companies wish to invest in fabric buildings for Bloomington IL, they choose the fabric structure experts at Greenfield Contracting. For help installing and maintaining your fabric buildings, call Greenfield!
Why Go Fabric?
Dozens of more traditional building materials are common in most commercial or industrial construction. So, what makes fabric buildings so much more versatile than structures like pole barns? Companies prefer fabric buildings due to their affordability, versatility, and surprising durability, among other helpful features:
Versatile – Fabric structures are easy to construct, take down, and move to other locations. Moreover, building design can be easily changed or adjusted to fit the needs of your business. Our fabric buildings can be used as temporary or long-term storage or as offices or workspaces with the addition of electricity.
Affordable – The time, labor and material that go into constructing a fabric structure are significantly less than what other traditional construction methods require. Thus, fabric buildings are a more affordable alternative to similar industrial construction solutions.
Durable & Long-Lasting – Greenfield Contractors uses high-density polyethylene tapes and UV inhibitors to increase the strength and resistance of our fabric. Additionally, our structures' beams and trusses are hot dip galvanized, ensuring superior corrosion and deterioration protection.
Lower Operating Costs – The non-conductive nature of our fabric, coupled with the natural light fabric structures afford for their interior, leads to lower operating costs for your fabric structures. Minimal energy is wasted for heat, air conditioning or light, reducing utility bills and encouraging environmentally friendly business practices.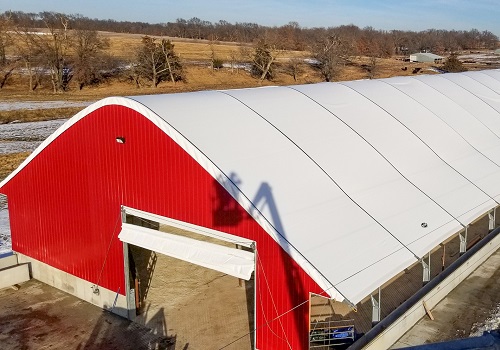 Why Choose Greenfield Contractors?
While you can find more than a few contractors for fabric buildings in Bloomington IL, Greenfield offers true construction expertise from area professionals. We understand the structural needs for Midwestern construction, ensuring your fabric buildings can meet the natural challenges of Midwestern climates. Moreover, our structures are built using 100% American-made materials and components and come with a 20-year manufacturer warranty, giving you greater confidence in your fabric structure.
Talk with Our Team
Make the best decision for your business's on-site storage or operational needs and invest in fabric buildings in Bloomington IL! Call Greenfield Contractors today at 833-747-7285 to learn more or schedule a quote. We serve clients throughout the Midwest, with offices in Illinois, Iowa and Kansas.