A Greenfield Fabric Structure Makes An Ideal Salt Storage Building In Galesburg IL
If you need a new municipal salt storage building, you may be considering a fabric structure. After all, fabric buildings offer the ideal solution for municipal salt storage: Fabric is unaffected by the corrosive nature of salt. If you're looking to build a salt storage building in Galesburg IL, look to the experience of Greenfield Contractors.
Why Choose A Fabric Building For Salt Storage?
Fabric structures offer significantly faster and cheaper builds than standard construction.
If you have taxpayers to answer to, the cost-effectiveness of a fabric salt storage building offers a real advantage.
Fabric structures are easier to move to new locations if desired.
The corrosive nature of salt does not affect fabric.
The steel framing that supports the fabric is hot-dip galvanized to prevent corrosion.
Our buildings are available in almost any size and are customizable.
Our fabric structures come with a 20-year manufacturer's warranty.
Do Fabric Buildings Hold Up Well In Galesburg Weather?
At Greenfield Contractors, we always engineer our fabric buildings with the location and the building's purpose in mind. Our buildings can handle wind of up to 150 mph and snow loads up to 300 psf.
The fabrics include ultraviolet inhibitor technology to ensure long-term strength despite the strong summer sunlight.
We construct all our buildings to comply with International Building Codes.
In short, Greenfield Construction's buildings are ideal for Galesburg weather conditions.
How Does Greenfield's Construction Process Work?
Our experienced team will work closely with you from first concept to final walk-through.
The first thing we do is discuss your goals, budget, schedule and site requirements. We want the installation to proceed smoothly, so we perform our due diligence and prepare the site before construction begins.
During the build, our team focuses on quality control.
Our project managers make certain your new structure meets exact building specifications and that the project continues to proceed smoothly.
After the construction of your structure is complete, we move into the post-construction phase. This includes site cleanup, final checks and final inspections of your entire project. We perform a final walkthrough with you to make certain you're completely satisfied with the end result. Before we're done, we'll provide any needed assistance with the warranty paperwork.
We are also available for preventative maintenance and repairs. We want to help you keep your fabric structure in the best shape possible for as long as possible.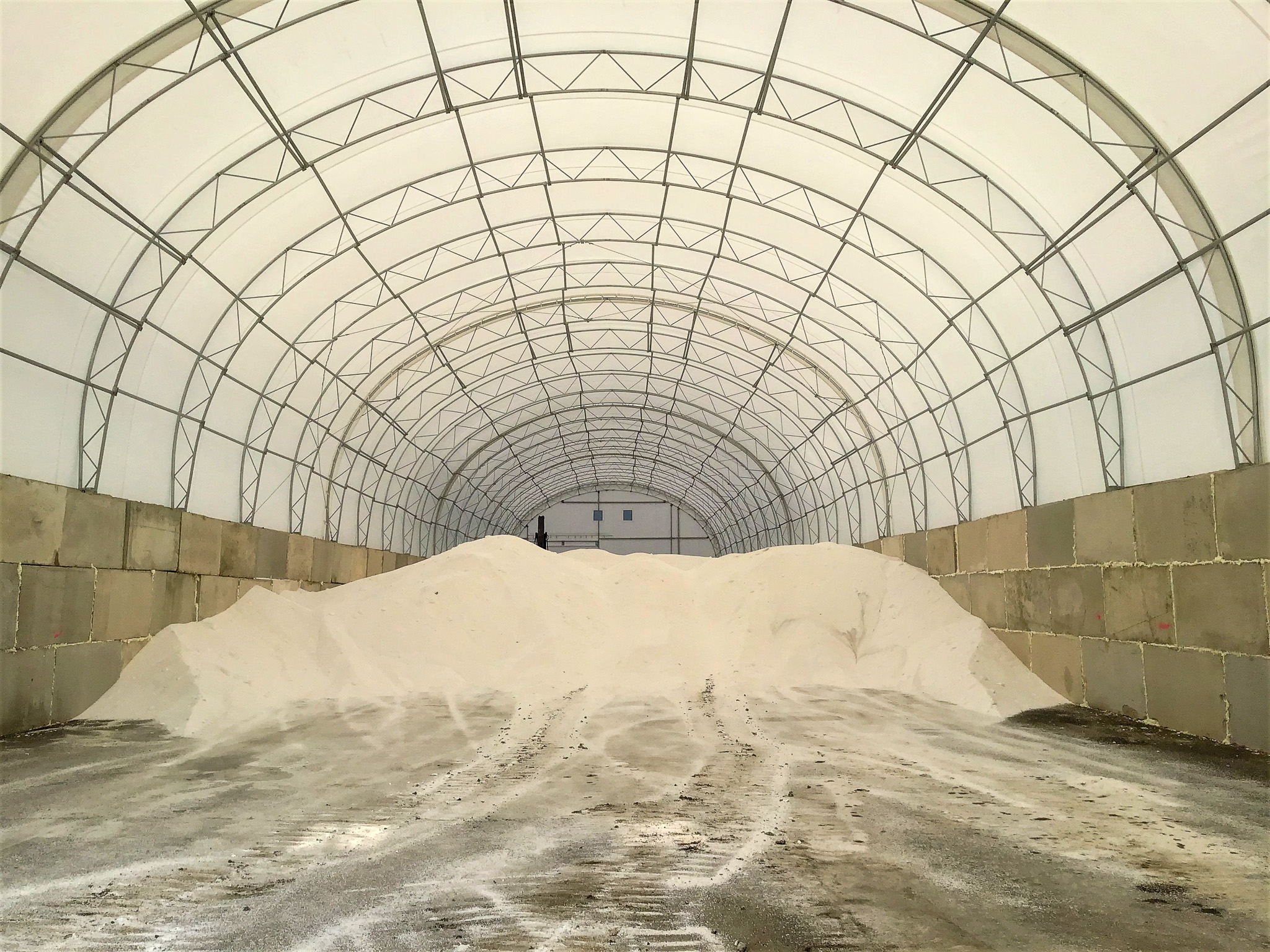 Ready To Start Planning Your New Salt Storage Building In Galesburg IL?
Why wait? Let's get started on your new salt storage building in Galesburg IL. Give Greenfield Contractors a call today at 833-869-0393!