Top Local Contractors for Fabric Portable Buildings in Bloomington IL
Greenfield Contractors offer you custom construction solutions with our fabric portable buildings in Bloomington IL. Do not be fooled by national companies advertising buildings that can go anywhere. They do not understand local snow loads, wind speeds, or soil composition like we do. In addition, we offer greater return on investment with these benefits:
Comprehensive Services – We expedite the construction process by handling it from start to finish. Our company can handle planning, due diligence, construction, project management, post construction, building maintenance, and building repair services. We offer you all the support you need to keep your buildings in good condition.
Proudly American – Our portable buildings use materials sourced from companies in North America. So, you do your part to support businesses from America and Canada when you choose Greenfield Contractors.
Greater Customization – We offer fabric portable buildings in both standard and completely customizable sizes for our fabric buildings. Our buildings have ranged from 16 feet x 20 feet on up to 170 feet x 240 feet.
Assurance – Our buildings give you peace of mind with a 20-year manufacturer warranty.
Top Reasons to Choose Portable Buildings
If you are looking to save money and get more versatility with construction projects, you can with our custom portable buildings in Bloomington IL. Our fabric-covered structures provide excellent solutions for industrial, construction, agricultural, governmental, mining, and other kinds of businesses. Here are some of the top reasons to choose Greenfield Contractors portable buildings:
More Usage – You can quickly assemble, tear down, transport, and relocate our portable buildings. Consequently, you can move them around wherever needed at permanent locations or take them to many different remote job sites.
Adaptability – Our fabric portable buildings allow you to expand or reconfigure layouts as business needs change. With conventional structures, you would invest a lot more into demolition and rebuild costs.
Energy Cost Savings – You cut utility bills by eliminating the need for daytime lighting with portable buildings. Our translucent fabric ceilings allow in enough natural light for your operations. In addition, the fabric protects machinery and employees from the sun's UV radiation. Plus, the fabric keeps temperatures an average of 15 degrees cooler in the summer and warmer in the winter to allow for more comfortable working environments.
Construction Cost Savings – With permanent structures, you wind up spending lots of money on building materials that become scrap or waste. So, your business is throwing money away. Greenfield Contractors can provide you with a construction process that creates much less waste with portable buildings. As a result, you maximize your return on investment.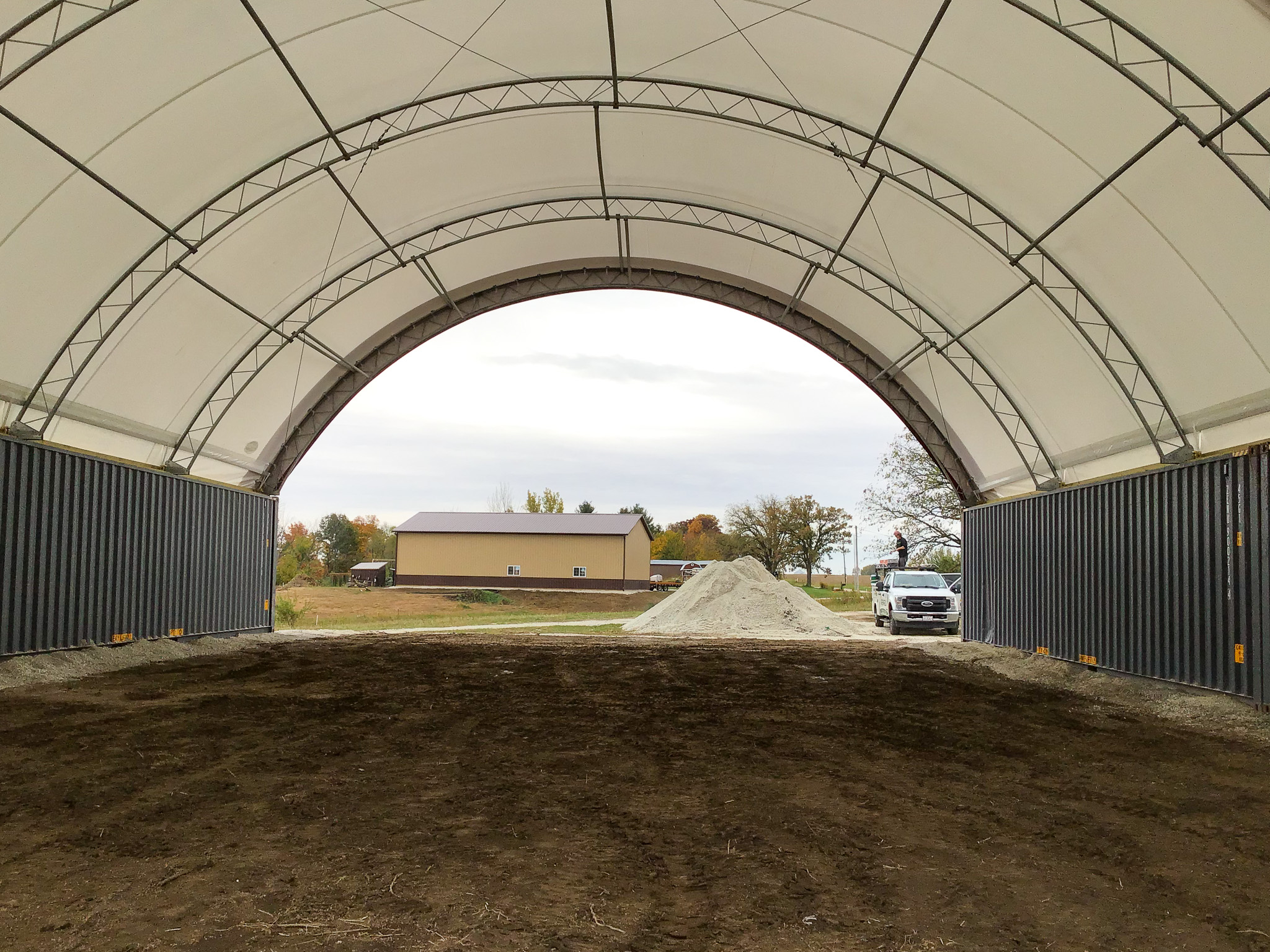 Get Free Quotes on Portable Buildings in Bloomington IL
Greenfield Contractors can customize structures that support your operations around your business needs with portable buildings in Bloomington IL. Get you free quote today! Give us a call at 833-385-1859 or email us by utilizing our online contact form to receive a free estimate on our fabric structures.