The Advantages of Cost-Effective Fabric Structures in Bloomington, IL
For the best in durable, practical, sturdy and economical structures, turn to Greenfield Contractors for fabric structures in Bloomington, IL.
A fabric structure may be ideal for your Bloomington IL project.
The customizable fabric buildings that Greenfield Contractors constructs are made to last. These durable fabric structures withstand the harshest elements – including those snowy Bloomington, IL winters. In addition, a fabric structure is a solution when you want a building that is flexible, permanent and cost-effective.
Here are some of the advantages of working with Greenfield to construct your fabric structure in Bloomington, IL:
We handle all aspects of your project, from the initial planning to the final walk-through, and every one of our fabric structures comes with a 20-year manufacturer's warranty
Fabric structures are faster and more cost-effective than the alternatives.
The flexibility of fabric structure construction means they're available in any size.
Fabric structures are built from durable material made from high-density polyethylene tapes and coated with low-density polyethylene.
The strong sunlight of Bloomington IL summers is not a problem, thanks to the UV inhibitors we use.
All our structures are built to comply with all International Building Codes.
Heavy snows and winds are not a problem. These structures perform well under all Midwestern weather conditions.
Natural light easily enters fabric buildings, cutting your lighting costs.
Fabric structures take advantage of advances in fabric technology. These buildings are long-lasting thanks to the corrosion-protected, hot dip galvanized trusses used.
Fabric structures are ideal for a range of industries.
The Greenfield Contractors team works with commercial, industrial, agricultural and municipal clients. The Bloomington-area structures we've built serve such industries as agriculture, industrial, mining, transportation, municipal and sports/recreation.
Our experience in serving a variety of industries means we understand the special needs of various sectors. Our flexible structures serve a variety of applications currently, including:
Housing cattle and storing grain, equipment and supplies for livestock and grain operations
Cold storage, warehousing, equipment storage solutions and storage of bulk items for ag and industry
Storage and logistics or a storage warehouse for the transportation industry
Seasonal equipment storage
Recycling plants and water management facilities for municipalities
Covered tennis courts, football fields, etc., for year-round recreation, even in the middle of a harsh Illinois winter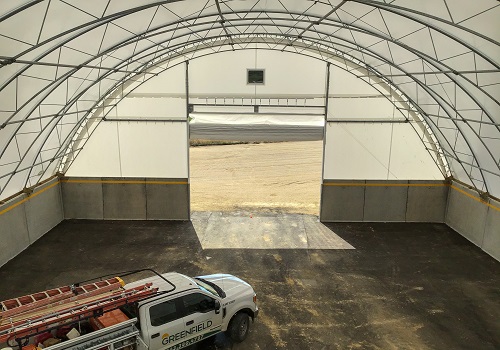 Learn more about how a fabric structure could work for your business or organization.
To learn more about our portable fabric structures, our process, financing options and the additional contracting services we offer, contact Greenfield Contractors today at 833-934-3042. We serve clients throughout the Midwest, with office locations in Illinois, Iowa and Kansas.